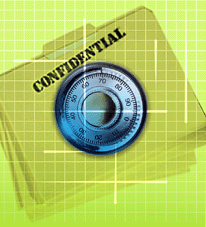 We understand your concern over the privacy and security of your records. Because of this, we have made every effort to protect your documents once they arrive at our facility. When scanning records for Health Care Providers, we can provide our 'Business Associate Agreement' which outlines our contractual agreement during the time that we possess any protected health information.
ScanFiles Employees
We take great care to screen all of our employees and hire only the most qualified people for the various positions here at ScanFiles. Each member of our staff understands the laws protecting the privacy and security of your documents and signs our 'Employee HIPAA Acknowledgement' form once hired.
Facility & Warehouse
Your files are safe with us! The ScanFiles facility utilizes state of the art security equipment and our building is protected by alarm systems, motion detectors, and security cameras.
California Evidence Code
Many of our customers ask if a scanned copy is considered as good as the original if asked to produce a document by the court, IRS or other entity. Although it is your responsibility to understand the laws as they apply to your business California Evidence Code 1550 does address the admissibility of a scanned copy of an original document.